About
Angela D. Warren

, San Francisco Immigration

Lawyer

With more than 20 years of immigration and business immigration experience, Angela Warren has helped hundreds of individuals, families and businesses navigate their US immigration issues and procure legal US visas. Ms. Warren is licensed to practice in state and federal tribunals such as the San Francisco Immigration Court, the Ninth District Court of Appeals, and the United States District Court, Northern District of California.

With a "Superb" Avvo rating, being named one of San Francisco's Best Immigration Lawyers by Thumbtack and most recently awarded as one of the National Black Lawyers Top 100, Angela Warren has a proven track record of success in her field. Read more testimonials about Warren Law Firm here. Attorney Angela Warren graduated from UC Irvine and UC Hastings College of the Law and began her legal career at Long & Levit, a San Francisco-based law firm that specializes in litigation.

Next, Ms. Warren joined the American Insurance Association, which represents Fortune 500 commercial insurance companies such as Chubb, Hartford Insurance Company, St. Paul and more. There, she served as Assistant Vice President of the Western Region of the United States and the Northern Mariana Islands. In her senior executive capacity, she represented member companies in diverse areas ranging from auto insurance to business insurance products, as well as proposed business and insurance legislation.

In addition, Angela Warren held the position of Americas International Counsel at Silicon Graphics, where she managed outside legal counsel in Latin America and Canada. She was responsible for overseeing business transactions, litigation and immigration issues in Brazil, Mexico, Argentina and other countries in Latin America. Her responsibilities included determining the legal implications of clients' national and international business strategies, overseeing subsidiaries, as well as negotiating letters of credit, licensing, third-party vendor and sales agreements.

Read our testimonials and then contact us for a phone consultation to discuss your immigration needs.
About Warren Law Firm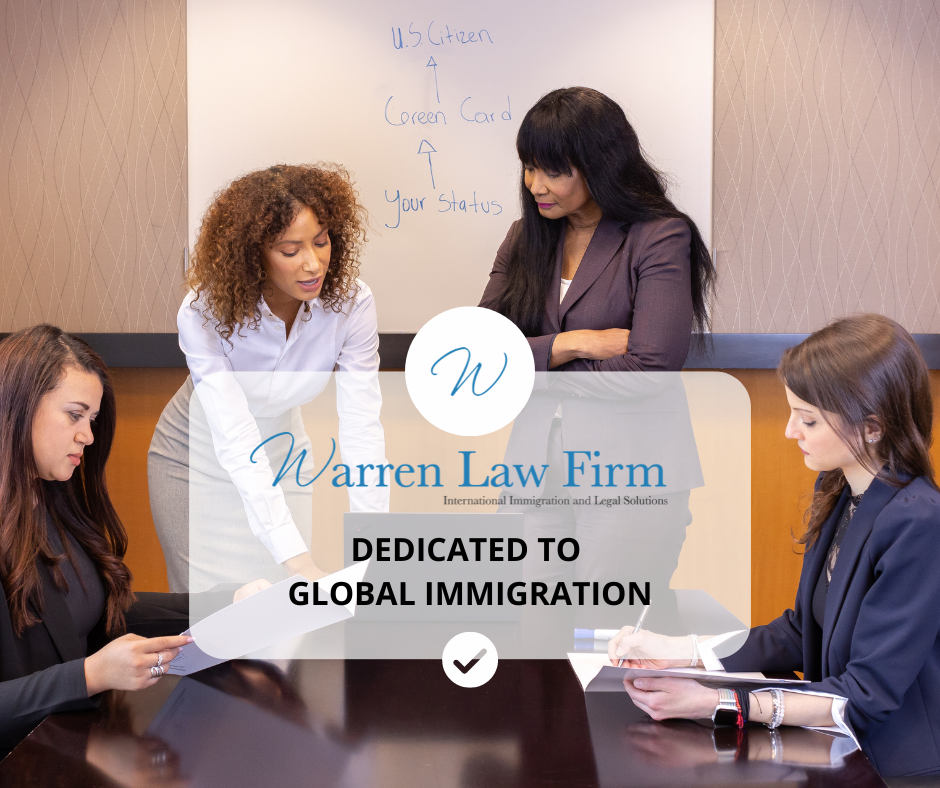 Since opening the Warren Law Firm in 2003, Angela Warren and her team have focused exclusively on advocating for:
Work visas and employment based visas, such as H-1B, E-1, E-2, EB-5 investor visas, EB-2, L-1A, L-1B, TN –NAFTA Trade Treaty Visas, O Visas, J Visas and E-3 Visas.
Families facing an immigration crisis and in need of fiancé visas, marriage visa, spousal-based visas, Immediate Relative visas, F1 visas and more
Individuals in need of immigration visas like – students, visitors, Victim of Crime Visas and VAWA / Abused Person visas
We believe in everyone's right to pursue U.S. based immigration status. Our firm was an active volunteer with the Immigrants' Resource Legal Center and a former member of the Alliance Francaise. The Warren Law Firm served as a member of the Small Business Development Corporation Mentorship Force and formerly served as a Board Member of Legal Aid of Marin as well as a trustee for the The English Center.
Contact us to find out if the Warren Law Firm can help you with your immigration needs. Please contact us by phone, email or by using the form below and we will reply to you within 24 hours. Our office hours are generally 9am to 5pm; weekdays and evening appointments may be made by special arrangement. We offer a competitive fee structure and accept checks, cash and major credit cards for payment.
Interpreters Available | We speak Spanish, Korean, Thai, Mandarin and French