Laws are facts, but they are also open to interpretation. Laws are concrete, but they are also ever-changing. That's why you need a great immigration lawyer. Finding the best immigration lawyer in San Francisco can seem like a daunting task. So consider these 10 tips to find the right attorney who can help you get the best outcome possible for your case.
(1) See if the attorney is highly-regarded in their field.
When you're searching for the best immigration lawyer in San Francisco, you should first make sure that they are a member of The State Bar of California. Also, check their professional affiliations. This can be an indicator that they stay closely connected with industry peers, and have their hands on the pulse of changing immigration laws, policies, and practices. For instance, are they a member of The Bar Association of San Francisco (BASF), or the American Immigration Lawyers Association (AILA)? Are they recognized by discerning organizations like Lawyers of Distinction? Be leery of attorneys who claim to have a wealth of knowledge and experience, but show no relevant industry affiliations.
(2) Ask the attorney about their success rate.
When you have an initial conversation with an immigration lawyer, remember that you're interviewing them to see if they're a good fit. So inquire about their level of success with previous cases—more importantly, cases with issues that are similar in nature to those in your own case. Also, request references.
(3) Experience matters. Ask the lawyer how much they have.
When you're looking for the best immigration lawyer in San Francisco, remember that years in the industry matter. A lawyer who has many years under their belt will have honed their craft as a result of exposure to a broad range of cases and issues, and will bring that wealth of knowledge to your case. This isn't to say that a firm with less experience is incapable of handling your case. They may simply not possess some of the more nuanced knowledge of immigration law that a seasoned lawyer has gleaned from years of experience.
(4) Take a closer look at the attorney's website to get a sense of their professionalism.
The lawyer's website will likely be your first experience with them. If the site is well-developed, professional, current, and informative, you may be able to expect that from the firm. A website with a blog section shows that the lawyer takes time to offer clients, and the public, helpful and insightful information. Blog content can help you familiarize yourself with concepts, policies, and procedures that could be relevant to your situation.
(5) Make sure the firm is able to speak your language, with either a multilingual staff or interpreters who are at the ready.
Being able to clearly comprehend exactly what's going on with your legal affairs is critical, and if you're like most people, laws and legal concepts can sometimes be difficult to understand. That's why it's very important that your lawyer is able to speak your language or provide translators who can make sure you understand exactly where your case stands, and what your next steps are.
(6) Perform your own background research.
Check to see if the attorney has a reprimand or misconduct noted on their record. You can find this out by checking The State Bar of California website. Potential violations could be minor, like not paying a fee in a timely manner, or they could be something more significant. A violation does not necessarily mean that an individual is a bad lawyer. It's up to you to decide whether or not the issue is a problem for you. This factor can be important because resolution of your case could take months, or even years, and you want to be able to trust the person, or team, you'll be working with.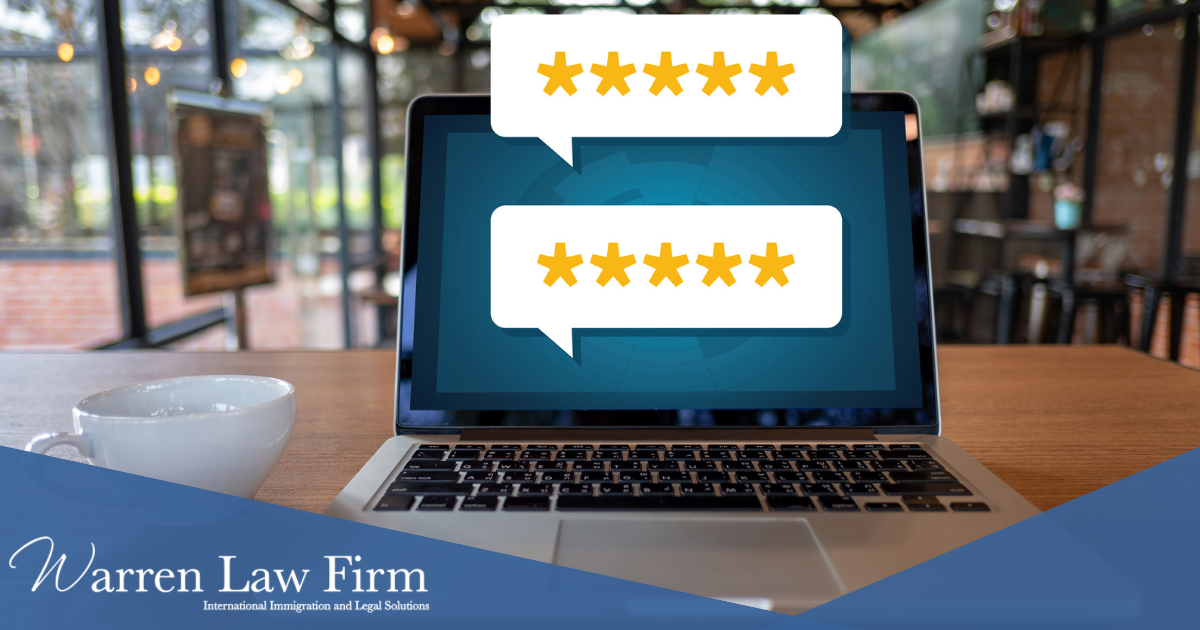 (7) Check social media for client reviews.
When you're looking to find the best immigration lawyer in San Francisco, don't forget to check to see what people say about them online. Social media ratings on platforms like Google and Facebook, and ratings from outlets like Avvo—a lawyer directory that posts client reviews—can give you a good gauge of consumer sentiment, and how the firm treat its clients. Be sure to check the attorney's site for client testimonials, too. How they treat their clients is how they'll treat you.
(8) Ask if you'll be working with a single lawyer, or with a team.
Working with a firm that has a large team of lawyers can be great, but be aware that the size of a firm isn't an indicator of the quality of service you'll receive. Sometimes working with a single lawyer, or a firm with a small team, can mean you've got an agile group that can move quickly and isn't complicated by lots of moving parts. It can also mean you won't have to constantly adjust to different personalities, or keep getting used to someone new who may be handling your case. Be sure to find out who will be the primary point of contact for your case, and how soon the firm can begin work.
(9) Consider an attorney who is located close to your home
Finding an attorney who is located near your home can be a major consideration when it comes to avoiding a long commute and heavy traffic. An office that's not too far from your residence can mean being able to stop by for an in-person meeting without having to experience a painful drive in. If the office isn't very far from your house, inclement weather may be less of a reason for you to have to reschedule.
(10) Ask about the attorney's price structure and availability.
Ask the attorney about their price structure. Do they charge flat fees, or by the hour? What methods of payment do they accept? Do they allow electronic payment via credit and debit cards? Do they offer an option for you to pay online? Do they accept digital payments via platforms like Papal, Venmo, or Zelle? These questions may seem premature now, but you don't want to learn the answers at a time that might be much less convenient.
Contact Warren Law Firm in San Francisco, California
With over 20 years of experience in immigration and business immigration, Angela Warren has shepherded hundreds of individuals, families, and businesses through complex immigration issues to secure legal U.S. visas. Ms. Warren and her team's professional and personal touch help her clients to not only achieve the legal outcomes they desire, but to be treated with the utmost concern in the process. Reach out to the best immigration lawyer in San Francisco at Warren Law Firm.